Kids Ministry at Parkway Baptist Church
At Parkway Baptist Church our kids (infant through 5th grade) experience safe, age-appropriate environments where they learn about Jesus in a creative and relevant way.
We would love to see you and your family visit Parkway Kids. To get directions to Parkway Baptist Church, click here.
Your first visit
Here's what to expect when visiting Parkway Kids for the first time:
First, find the Parkway Kids check-in sign located outside our school administration building. There we will meet your family and check your child into our system.
Upon checking in for the first time, we will ask for the following personal information (NOTE: We value your privacy and will not share this information with anyone):
Parent/guardian name(s)
Child's name
Child's grade
Phone number
Any special instructions for your children (allergies, special needs)
Parkway Kids Overview
SAFETY
The safety of your child is our number one priority. Our volunteers and safety team have been properly trained to keep your child safe at all times. Each volunteer that your child will interact with has passed a background check.
PURPOSE
It is our goal to partner with families in teaching kids about Jesus Christ and the Bible. We use engaging curriculum, fun activities, and uplifting music to teach children about God.
FUTURE VISITS
If you like us (and we think you will!) then come back anytime! We have kid's services each week on Sundays at 9:00am, Sundays at 10:45am, and Wednesdays at 6:30pm.
Meet our Kids Director
Michael Battle joined the Parkway Baptist Church leadership team in 2017 as the Kids Ministry Director. He was born and raised in Macon, Georgia. Although he grew up in a Christian home, he did not accept the Gospel until the age of 13. Going in to college, Michael dreamed of becoming a college football coach, but God had other plans. After his first semester at Pensacola Christian College, Michael changed his major to Youth Ministries. After completing his undergrad in 2014, he spent the next three years completing a Master of Divinity, working in the PCC Promotions Department, and joining the Program Staff of Teen Extreme Youth Camp. In August of 2017, the Lord led Michael and his family to Parkway to work with the kids ministry and finances.
Michael is married to his beautiful wife Amber, and together they have a daughter, Annaleigh and a son, Brooks. They enjoy spending time with family at the park, going to Disney, watching football, and playing Catan.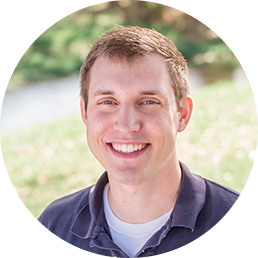 Got questions?
If you have further questions concerning our Parkway Kids experience or visiting Parkway Baptist Church with children, simply click the button below and get in touch with us!