Introduction
At Parkway, we believe that all people matter to God. We all have different backgrounds, different upbringings, and different stories. We live in different neighborhoods and our kids attend different schools. However, we are united in the fact that we all have a story that matters to God. We hope that this page will provide a platform for God's people to tell their stories of God's goodness in their lives.

Adoption Story - The Nicely family
Scott and I knew when we were dating that adoption would be part of our story. He in his forties, me over thirty, five marriages between us and no children from those relationships.
In 2013, a year before our marriage we chose to complete the necessary classes to be adoptive parents. We were advised to wait until after our wedding the next year to pursue adoption, even though our classes were completed. One of us would have to adopt the child/ren, and then the other after our wedding. We had a hard time during that year because every email of available children that came through, we wanted to meet and potentially adopt.
After our wedding in June of 2014, we actively started seeking a child, specifically our request was for a girl, one child. We attended an event hosted by Heartland for Children where there were about fifty children to be matched. We both noticed a teenage girl, enjoyed meaningful conversation with her and let the case workers know that we were interested in getting to know her better. These activities are weird and awkward, like blind first dates. After a month or so, she decided to age out of the system on her own. She had goals set and had mapped out her future. Sadly, we discovered a couple years later that she met a guy, and her plans did not develop the way she hoped. She entered the correctional system at eighteen years old.
We were invited to another event, this time a picnic at a local park. Scott was excited to attend, I, however, was not. I was discouraged from the first interaction and could not face that rejection again. In the end, we did attend the event. There was an email sent out before the picnic, listing the children that would be in attendance. Scott and I both agreed NOT to speak or make eye contact with the group of FIVE siblings. At the time, it was three boys and two girls. Again, WE were only wanting ONE girl!
The older three children from the group of FIVE sought us out and would always make sure at least one of them were always at our sides. We were there for about four hours in total and could not shake them from our sides. By the end of the picnic, we were in love and had spoken to their caseworkers to pursue all five. During the adoption, the oldest sister and second to youngest brother were removed from our adoption. Their trauma and actions were too severe to be around the other three remaining siblings. This was how we became parents the first time. Shelby (13), Camaron (12), and Caleb (4) became Nicely's on February 17th, 2016.
We were living a good life with three children; we joined a local adoption support group to learn and support others in their journey. We became friends with a couple that was matched with three boys, those boys were rough, and the family was having a hard time adjusting from no children to three. We would have the boys in our home several times during this time, Camaron and the oldest went to the same school and were best friends. One day I saw a post on Facebook that they were having the agency pick them up that day! This was heartbreaking for us, Camaron was asked almost daily where his best friend was, the leaders of their youth group questioned him as well. This became his story to tell, even though he did not fully understand what was going on.
After a couple months, Camaron and Shelby asked us why we could not adopt the group of boys. After asking them if they were crazy! Scott and I both could not get them out of our minds, no matter how much we asked God to take care of them, it became clear we were to be their home. The boys were rough to start with, mean, angry, and added in the loss of another family that said they would be their forever. The family that we met were their second "forever" home. So, when we reached out to find them and start the process of adoption, we knew it would be a long road ahead. We had to be vague with all the kids as to our intention to adopt them, because so many other adults had told them this in the past and failed them. It took us a year of having them in our home every weekend to establish trust and for them to get the idea that they wanted us to adopt them. We were able to celebrate their adoption on December 12th, 2017. They all decided to change their full names, Austin (12), Matthew (11), Jason (9). Something we discovered through our journey with them, was that they were also at the picnic we attended and met our first three at.
Since that time, Scott and I have said one day we would adopt another girl to our family. We searched during 2019 for a little girl, under five years old. As you can see, we have added another boy to our family. Sweet Tyler was sent to me from another adoptive mom, and close friend Kayla (also from Parkway). I said how cute he was but again he was a boy! God had other plans, Scott and I talked about it, and said if it is Gods will, He would work it out. We made our interest known in October, learned of his challenges, said Yes to all of it, because we knew God had him. It has been a challenging year, but God had it all in control! Tyler became a Nicely on October 23rd. God is working so much in His little life, and we are so excited to be taking this new journey. All the children love Tyler and help so much with his care.
Scott and I have said since the beginning that we would have ten children. Who knows if there will be more girls or boys? God has brought our family together and will continue if it is in His will.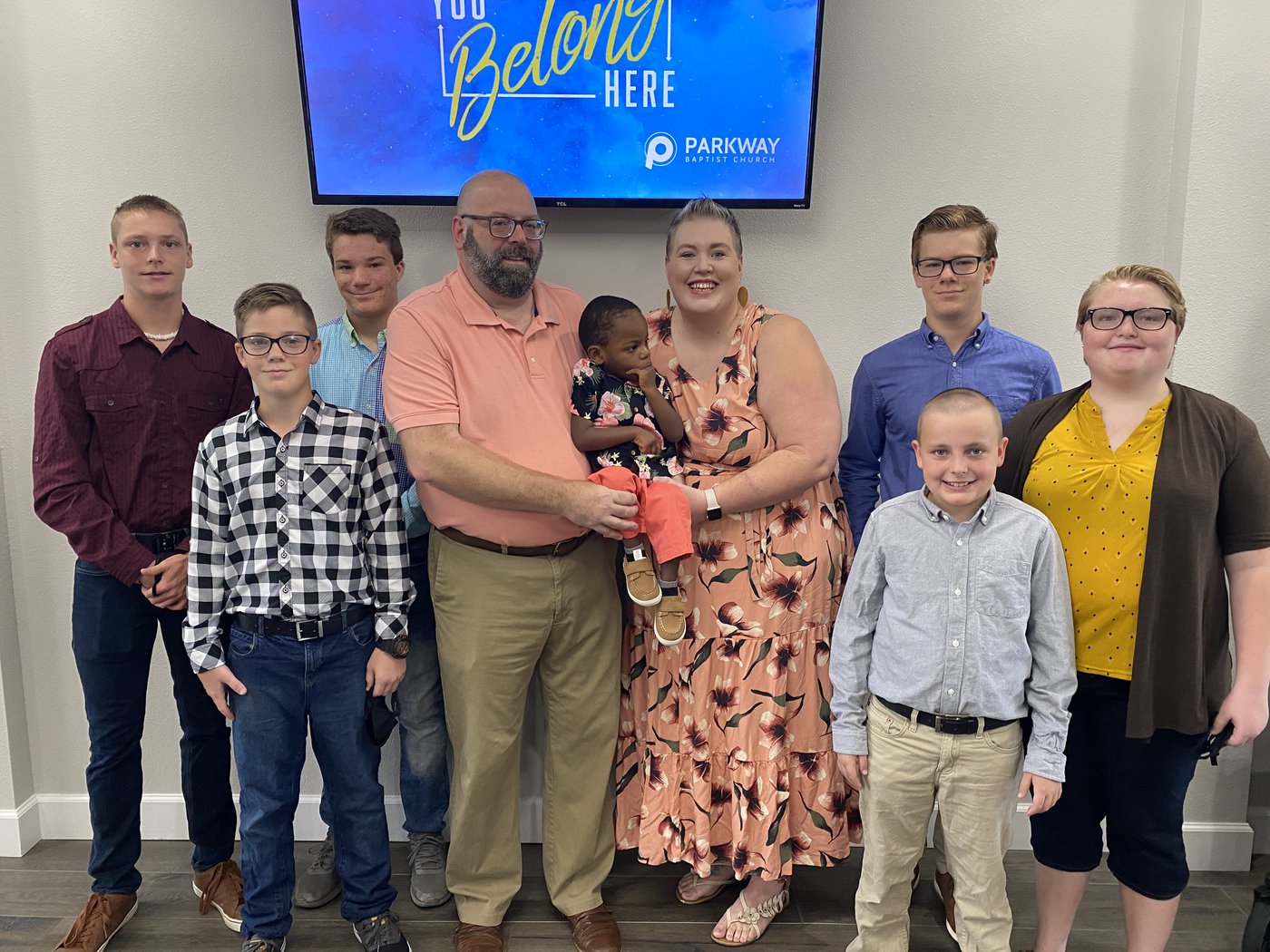 Who needs to hear your story?
If you would like your story of God's goodness to be featured on this page, email your story and picture to ssmith@parkwaybaptist.org. We are all normal people who are affected by the grace of an extraordinary God! Let's encourage one another by highlighting God's work in our lives.